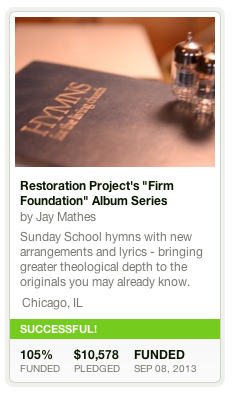 Our 30-day Kickstarter campaign to fund our Firm Foundation remade Sunday School songs project was completed on September 8th, 2013, at 1:50 AM CDT. We cannot be more excited about what God has done and what will come of this unique album series. We raised well over our original goal of $10,000 and reached a combined total of $11,270, including both Kickstarter and cash gifts. Thank you. Praise our great God!
So… What's next?
We suspect there is a fair number of people who wanted to donate but for whatever reason could not or did not during our campaign. We are working right now on updating our web store to accept pre-orders for these new recordings, including different purchase tier packages only available by pre-order through our website. Please remember, though, that we won't be able to offer you any of our Kickstarter pledger-only items. Until we get things fully up and running, you can still pre-order using the "donate" option on our web store.
There is much else to be done as we move ahead on producing these recordings. To get the play-by-play, we'd suggest following us on social—Twitter or Facebook, or both. More details to come!
Again, thank you, thank you, thank you!